Little Art Stories 21.05
Hello Sadness.
Hello summer.
Hello, life.
Hello Cécile, 17 years old.
A summer, a teenager, loves, family, disillusions, jealousy and Love with a capital L. This is not a harlequin novel, and even less a novel for young people, but a gripping and unforgettable literary work.
It is an exquisite novel, like a macaroon with a crunchy shell that reveals a sweetness mixed with a sharp acidity. A raspberry macaroon.
To be devoured without moderation. 
A whirlwind of emotions, intense, noble and less noble. 
Perhaps.
Lives that are then rythmed by emotions that heckle, jostle and topple forever. 
This is Françoise Sagan's first novel, which she wrote in the summer of 1953, when she was only 17 years old. This outstanding author knew immediate success with this work. Not only for the elegance of her style, but also because it represents a liberated youth that expresses itself freely.
A work that makes you feel pleasure, jealousy, envy, love and also anger. An anger mixed with a burning jealousy that could lead you to understand and forgive the impulses of a girl who loves her father too much to change her life.
A hymn to father-daughter love, a hymn to life and feelings.
We invite you to discover this novel in our reading area and would be delighted to discuss with you how you feel 😊
See you soon!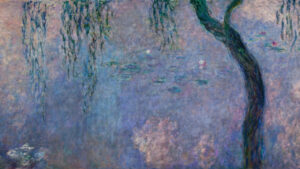 Impressionism
The Impressionist movement developed in Paris in the second half of the 19th century, with famous artists such as Claude Monet, Camille Pissarro, Pierre Auguste Renoir, Edgar Degas and others as its main representatives. Although originally developed in the field of painting, it influenced both literature and music.
The movement was a reaction against the academic aesthetic in painting, the pretentious "art of the atelier" and the restrictions it imposed on subject matter (e.g. historical and religious subjects, portraits, etc.) and the techniques that painters were required to follow (e.g. use of a specific colour palette, etc.).
Impressionist painters wanted to capture the immediate impression of an object or an everyday image rather than a realistic representation of it. The main characteristics of their works are vivid, bright and intense colours, outdoor compositions, emphasis on the representation of light, and unusual angles in the representation of images. Their subject matter mainly includes landscapes or scenes of everyday life with ordinary people.  
Outdoor painting in the 1860s brought a real revolution in the art of painting, as until then artists had only painted in studios. It enabled painters to use a palette that allowed for the analysis of the true colours of nature. Their interest in the play of light was a real innovation for their time. It is significant that Monet had painted a storm at every hour of the day, at every time of the year.
In their works, the Impressionists used small and often obvious brushstrokes that created a characteristically thick layer of paint on the canvas. Impressionists created a new approach of colors and shadows, they stopped using dark colors to use mostly primary and vivid colors to create visual effects by bringing colors next to each other.